*FREE CURBSIDE DELIVERY BY LTL ENCLOSED TRUCK, CUSTOMER NEEDS TO ARRANGE OFFLOADING OF UNIT
SIMPSON STAGE 1 Self-Contained Cold Water Cleaning System
Pressure Washer Trailer System 4200PSI @ 4.0 gpm
2000lb Single Axle w/ Leaf Spring Suspension, Direct Drive, 100ft Hose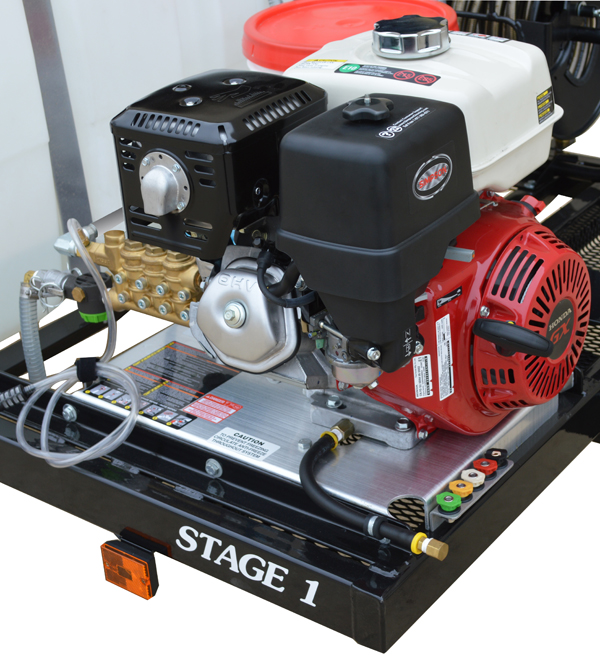 SIMPSON 95003 Features:
The SIMPSON 95003 has an Electric Start Honda GX390 Commercial Series OHV Engine. This engine has Low Oil Shutdown for added safety. It has an easy start and a direct drive to streamline the power transmission from the engine to the pump.
This model offers water pressure at 4200 psi and a flow rate of 4.0 gpm. The water is stored in a 150-gallon water tank with a bottom drain. It comes equipped with a high capacity pressurized hose reel and a CAT 67DX pump. The hose gun has Quick Connectors and the wand type is steel with Quick Connect. This model's hose is steel-braided.
The SIMPSON 95003 has 6-ply tires on 12-inch white spoke rims. It has a metal license plate holder and meets DOT standards. The overall trailer structure is welded box steel with a 2000lb axle.
This unit has a 1-year limited warranty for the overall model, a 3-year warranty for the Honda engine, 2 years for the CAT Pump, and 90 days for the gun, hose, spray want, and nozzles.
SIMPSON 95003 STAGE 1 Pressure Washer Trailer System is the ultimate companion for the contractor in needs of powerful pressure washing capabilities. This unit travels with you over distances thanks to its sturdy 2000-pound box steel trailer. Never fear attaching this to your truck; it is DOT-qualified and has a license plate holder. Take the pressure washer power with you to work.
This unit's water power is extreme; it offers 4200 psi of water pressure at a flow rate of 4.0 gpm. The powerful technology is supported with an Electric Start Honda GX390 Commercial Series OHV Engine. The engine has a low oil shutdown for safety. This model also has a CAT 67DX pump that pressurizes the water from a 150-gallon water tank. The steel-braided hose is strong enough to handle all that strong pressurized water.
Quick connectors make it easy to connect the hose gun and wand so that any adult can make use of this system. It comes with five Quick Connect nozzles for soap, and sprays of 0°, 15°, 25°, and 40°. The SIMPSON 95003 is made for contractors who need powerful cleaning on-the-go. If you need powerful pressure for work, this model is for you. Contact Nationwide Generators today and ask us more about the SIMPSON 95003 STAGE 1 Pressure Washer Trailer System.
Description/Features:
• Welded Box Steel Construction - 2000 lb Axle with Leaf Spring Suspension
• 6 Ply Tires - 12" Spoke Rims
• 150 Gallon Water Tank With Bottom Drain Petcock
• High Capacity Pressurized Hose Reel
• LED Lighting Package with Metal License Plate Holder
• Meets DOT Standards
• Direct Drive Engine & Pump for Streamlined Power Transmission from Engine to Pump
• Honda GX Commercial Series Engine Starts Easy, Runs Smoothly, and Delivers High Output
• Triplex Pump Design with Ceramic Pistons and Thermal Relief Valve
• 5 Quick Connect Nozzles - 0°, 15°, 25°, 40° and Soap
Specs:
Water Pressure
4200 PSI
Flow Rate
4.0 GPM
Engine *ELECTRIC START
HONDA GX390 Commercial Series OHV Engine w/ Low Oil Shutdown
Pump
CAT 67DX
Wheels
6 Ply Tires Mounted on 12" White Spoke Rims - 5 Lug
Pump/Hose Connection
Affixed to High Pressure Hose Reel
Hose
3/8" x 100' Steel-braided
Hose/Gun Connection
Quick Connectors
Wand Type
Steel with Quick Connect
Engine Orientation
Horizontal
Frame
Aluminum Engine / Pump Baseplate
Accessory Storage
On-board
Warranty
1 Year Limited Warranty Overall, 3 Year HONDA Engine, 2 Year CATTM

Pump, 90 Day Gun, Hose, Spray Wand & Nozzles

Shipping Length (inches) 74
Product Length (inches)
106
Shipping Width (inches) 70
Product Width (inches)
68
Shipping Height (inches) 50
Product Height (inches)
46
Shipping Weight (pounds) 790
Product Weight (pounds)
630
Frt Class
150
Assembled in the USA of Domestic and Foreign Components
This SIMPSON® self-contained pressure washer system is perfectly suited for Contract Cleaners, Mobile Detailers, Municipalities and Resorts. The trailer is DOT Certified as an over-the-road pressure washing system. Job-site set-up is a snap. Pull up to the work area, connect the spray gun, start the engine and begin cleaning.