SIMPSON Megashot 3200 PSI @ 2.5 GPM, Gas Pressure Washer Honda GC190 ENGINE
SIMPSON MSH3125-S 60551 Features:
The MSH3125-S contains a HONDA OHC premium residential engine. It's easy to start and reliable. Its power transmission from the engine to the pump is streamlines with direct drive. The engine orientation is horizontal.
This model has a 1.9 qt. fuel tank.
The water pressure comes out at 3200 psi, with a flow rate of 2.5 gpm. It has a FNA Axial Cam Pump with POWERBOOST. The pump hose has an easy connection and a quick connect spray wand. It comes with five quick-connect nozzles for soap, 0°, 15°, 25°, and 40° spray. There is a downstream detergent injection system.
The SIMPSON MSH3125-S ten-inch pneumatic tires make for easy mobility, as do frame handles.
This model comes with a one-year limited warranty for the machine as a whole, a two-year Honda engine warranty, a one-year warranty for the pump, 90 days for the gun, hose, and spray wand with nozzles.
The SIMPSON® MegaShot 3125 is the perfect investment for owners with DIY pressure washing projects. It is not an overly expensive, investment, however. This model is strong, reliable, and affordable. It is great for anyone with the occasional project that calls for a pressure washer, from contractors, to business owners, to homeowners who want to power wash their driveways.
This pressure washer model is compact for easy transport so it can go with you to any job site. It is easy to load into your truck, but still offers powerful cleaning performance. It is powered with a Honda 187cc Overhead Cam engine. It offers 3200 psi of water pressure power, a flow rate of 2.5 gpm, and POWERBOOST technology for superior washing strength. Its power is streamlined with a direct drive engine and pump. All this is run on gas from a 1.9qt fuel tank.
The MegaShot 3125 comes with a set of five nozzles for different spray settings, including 0°, 15°, 25°, 40°, and soap sprays. It also has a downstream detergent injection system. With a 2-year Honda warranty for the engine, a 1-year warranty for the pump, a 90-day warranty for the gun, hose, spray wand, and nozzles, this model comes well-protected for your use.
For more information on this model and its cleaning power, contact us at Nationwide. We are proud to sell this reliable brand.
Product color varies, may ship with Red or Black Engine Cover
Model: MSH3125-S

Short Description:


SIMPSON Megashot 3200 PSI @ 2.5 GPM, Gas Pressure Washer
Item #
60551
UPC
879399000959
Ships UPS?
Yes
Description/Features:
• Direct Drive Engine & Pump for Streamlined Power Transmission from Engine to Pump
• HONDA OHC Premium Residential Engine for Easy Starting and Proven Reliability
• Maintenance-free Axial Cam Pump with POWERBOOST® Technology for Increased Performance
• Welded Construction, 1-1/4" Tubular Steel with Heavy-gauge Steel Engine Plate and Solid Steel 5/8" Axle
• 10" Premium Pneumatic Tires
• 1.9 Qt. Fuel Tank
• 1/4" x 25' Non-marring Hose with Easy Connectors for No Tools Assembly
• Downstream Detergent Injection System
• 5 Quick Connect Nozzles - 0°, 15°, 25°, 40° and Soap
Specs:
Water Pressure
3200 PSI
Flow Rate
2.5 GPM
Engine
HONDA GC190
Pump
FNA Axial Cam Pump with POWERBOOST™
Wheels
10" Premium Pneumatic Tires
Pump/Hose Easy Connector
Yes
Hose
1/4" x 25' Hose with Easy Connectors
Hose/Gun Easy Connector
Yes
Wand Type
Quick Connect Spray Wand
Engine Orientation
Horizontal
Frame
Welded Steel
Frame Tube Style
1-1/4" Round
Frame Handle Style
Horizontal
Accessory Storage
On-board
Warranty
1 Year Limited Warranty Overall, 2 Year Honda Engine, 1 Year Pump, 90 Day Gun, Hose, Spray Wand & Nozzles
Master Length (inches)
26.125
Product Length (inches)
35
Master Width (inches)
22
Product Width (inches)
21
Master Height (inches)
24.625
Product Height (inches)
22.5
Master Weight (pounds) w/o pallet
73
Product Weight (pounds)
65
Assembled in the USA of Domestic and Foreign Components
Product may come with Red or Black Engine Cover: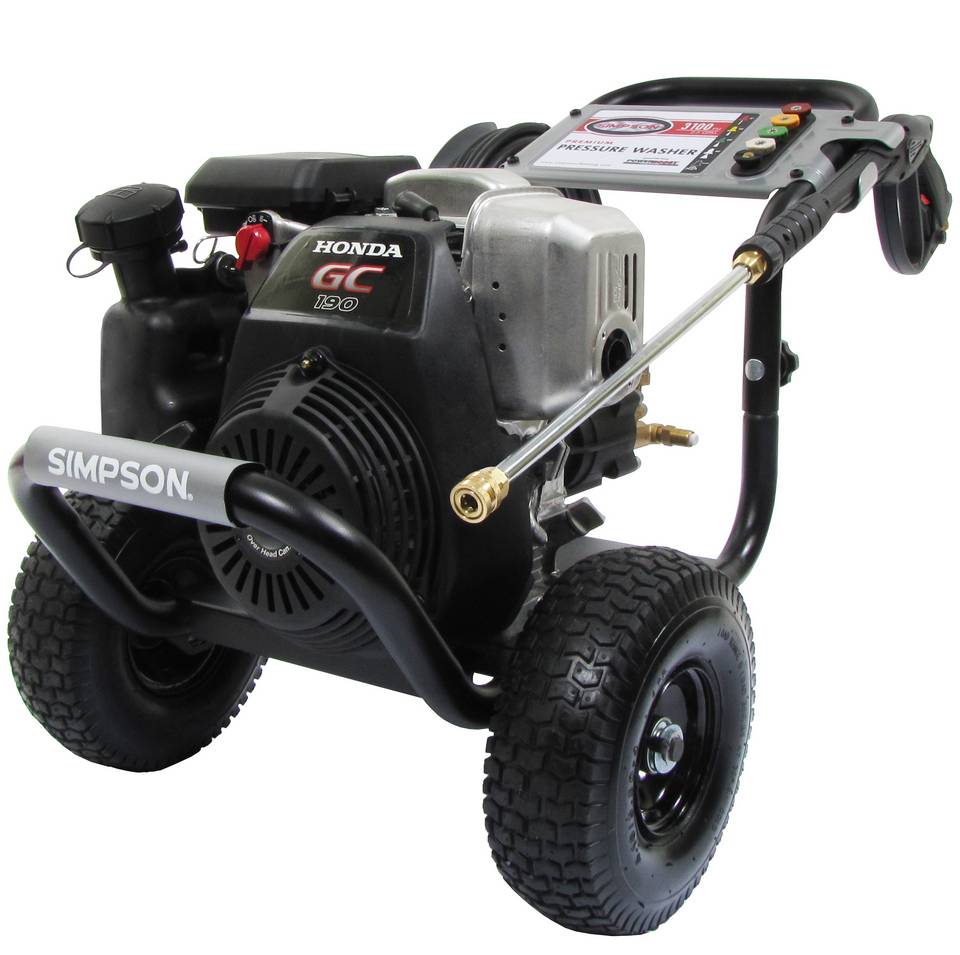 13 Reviews
great value , great sales team

My first power washer, what a good job it does!

It is lightweight but so powerful. Engine seems top notch, and gets my house trim and brick very clean without detergent. I love the variable spray heads and the easy operation of the washer.
I recommend this to anyone who needs a good quality washer for home or light commercial use.

Compact yet powerful enough to do the job

Living in the Pacific Northwest has it's benefits. The summers are awesome, but the winters are wet. Along with the cold and rain comes a healthy crop of moss and mold. This nasty stuff coats virtually everything. In the past I've dealt with it by borrowing or renting a pressure washer. This year I bought my own, a Simpson MSH3125-S Megashot. This little machine made short-work of last winters crop of moss. The Honda engine starts easily and the 3,100 psi pump gets the job done. Best of all this power washer is compact enough to store easily when not in use.

Best power washer I have ever used

Just bought a new house with 3 car driveway patio and sidewalks front and back. All of them were really dirty from 30 years of caked on dirt. This power washer has been running 5 hours a day (only because I'm to old to do 8-10 hours) and has performed flawlessly.

It came in 2 days for $15 shipping (what a deal). I unpacked the box and was up and running in half an hour. Its only stopped when it runs out of gas or I get tired for the day. It might have been more than I needed, but I am definitely not sorry that I spent an extra few bucks to get the high quality with which this washer seems to have been built.

Simpson MSH3125-S pressure washer

Have used only a few hours but so far this washer is everything advertised. So far i am well pleased.

Easy Peasy....Great Product

I am not mechanical and worried because most things of mechanical nature I purchase don't seem work for me as easy as I hoped..but this product did.. no real assembly, easy to read and understand instructions with what appears to be very solid components.... it worked perfectly the very first time.. I am really pleased and do recommend this project.

Good Pressure Washer, Good Value

I purchased the MSH 3125-5 although I'm not wild about buying equipment I've not laid my hands on. It arrived quicker than I expected and was very easy to unpack and assemble. I put it right to work cleaning about 6500 sq.ft. of pebbled concrete sidewalk, driveway and stained cement patio. I was tired but the washer was opporating flawlessly. I am surprised by its light weight and compact size. I retired 9 years a go after using trailered systems and large hot water washers. I'm impressed by this "little one". I'm using this Simpson for my residence and ranch. Yes, I recommend this product to anyone for light commercial or residential use.

I recently purchased this power-washer as my old Kucher finally gave out. I immediately unboxed the powerwasher and used it to wash a 100 sq ft deck and a 300 sq ft treehouse deck. I love the simple and easy tip options provided and was pleasantly surprised to find no leaks of any kind coming from the attachments, they were 100% water tight. The unit is light and easy to move around which is important because my wife will be using this unit also. I am looking forward to testing how well the soap tip works with washing our vehicles as well. At this point, I am extremely satisfied with the easy of use and quality of this machine and believe I made the right choice in purchasing the Simpson machine.

I used this power washer 2 days in a row for about 5 hrs continuously and only stopped to refuel. It started flawlessly on the first pull and restarted after fueling on the second pull.
So far I am impressed with this power washer and I do recommend it. I washed my entire 30' by 30' deck. Without a single problem. Next is the house. I don't think you will be dissatisfied purchasing this powerwasher. I also purchased the flow regulator for this powerwasher giving me even more control to do light weight washing. I recommend that also.