​A Reliable Generator Gets Regular Maintenance
21st May 2018
You probably know already that your standby generator needs regular maintenance. You may have heard that it needs a professional check at least once per year. When you go years with no trouble, it is easy to let those essential checks slide. Unfortunately, that increases the risk that something will go wrong at the very moment you need that generator the most. That is the primary benefit of regular maintenance; it keeps your generator reliable.
Keep Your Generator Running Better, Longer
Your generator is a complex system of parts. Like any other important machine in your life—your car, for example—it needs help staying in the best possible condition. A standby generator that gets regular maintenance will last thousands of hours more, possibly 20 years or more. That makes your long-term investment even more worth the expense.
There are all sorts of problems that may develop from a lack of proper maintenance. The fuel system, for example, needs to be kept clean. It can develop algae build-up and the fuel injectors can become clogged. Keeping up with details like these keeps your generator running as efficiently as possible.
Rest Assured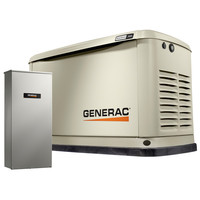 It also means you have peace of mind. You can rest easy knowing that you're unlikely to have a problem with your generator because you have it checked, cleaned, and maintained regularly. All this prevents the trouble of emergency service calls, or being without the generator when you need it. Problems that continue for some time get worse. Plus, you risk being without electricity when you need it. A power outage during the heat of summer could leave you without cool air, which means discomfort, and potential health problems (spoiling food, heatstroke, etc.).
Without the regular maintenance, you risk more expensive repairs. Problems caught early are more likely to be solved with far less costly solutions. There are available service plans to help with those major costs, and even cover some smaller ones. Generac's National Dealer Network, for example, offers 24/7 service. Take this service along with Generac's Standard 3-to-5-year warranties and you're completely protected. You can also purchase maintenance kits to help you take care of some details yourself.
Help your reliable generator stay that way; perform and request regular maintenance. Find out more about purchasing and caring for your generator at Nationwide Generators.