Brand Spotlight: Briggs & Stratton Standby Generators
18th Jun 2018
Briggs & Stratton, one of the most recognizable and reliable brands in the power market today, is the result of a partnership; two men came together in the very early 20th century to create a company dedicated to building powerful equipment. Since then, the company has made itself a household name in industrial and home power. This long history is why Nationwide Generators chooses to offer Briggs & Stratton Standby Generators in inventory.
Briggs & Stratton from the Beginning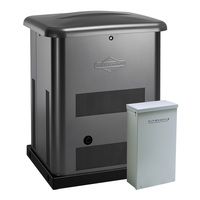 For over a century, Briggs & Stratton has provided power to both major industries like the military, and to homeowners. In fact, its manufacturers created a lightweight aluminum engine for lawn work, the first of its kind, positioning the company as a reliable brand in lawn and garden care. Then, the company expanded its list of items to include generators, pumps, pressure washers, and more.
Today, this company is a household name. It produces items for commercial use, industrial use, and home use, and continues to advance in a competitive market as a trusted name in power. Briggs & Stratton engineers create engines and generators, pressure washers, air compressors, mowers, blowers, and much more. At Nationwide Generators, we offer generators and their accessories, as well as pressure washers from this brand because they're powerful, trusted, and our client are pleased with the products consistently. (Have a look at the Briggs & Stratton 40451 10kW with 100Amp 16 Circuit Load Center ATS.)
In addition, we offer knowledge and support for these products to our patrons. If you're looking for the best in backup power, we can help you find the best Briggs & Stratton model for your needs. We can also offer you the parts and accessories to help you get the best possible use from these generators. So, when you need to repair or replace a part, we can help.
Find out more about Briggs & Stratton and what this brand of generators can do for you. Take a look at what we have online at Nationwide Generators and contact us with any questions.