​Brand Spotlight: Champion Generators
20th Jul 2018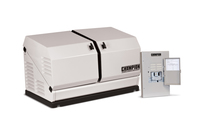 Champion Power Equipment is a recognizable brand in the power generation market, as well as a trusted one. For many years, Champion has provided reliable and durable products, created and made in the U.S. to supply power around the world. Whether you need backup power at work, at home, or at play, this manufacturer can provide what you need with excellent performance.
The Company
Champion is based in Santa Fe Springs, California. It has operated in the power equipment market since 2003, developing its reputation as a designer and producer of superior power products. Over the years, the company expanded to facilities in Tennessee, Wisconsin, and even Canada. Their product line has also grown to both home standby and portable generators, inverter generators, engines, and more. They have sold more than 2.5 million generators in North America alone, making them a noteworthy company in the industry.
The Products
Champion consistently offers consumers modern, innovative technology, including Dual Fuel, remote starting, and more. This allows them to keep up with, and even stay ahead of the market competition. The company's Champion Engine Technology (CET) is researched and developed in Wisconsin. It is the basis for much of Champion's available power equipment. Talented engineers develop Champion engines and technology, such as the new V-Twin engine line of products.
At Nationwide Generators, we offer Champion brand generators because our clients recognize the brand as a reliable, durable brand of products. From the Champion 100292 Standby 14KW Generator, to the Champion 42436 1200/1500 Watt Portable Generator, and beyond, we provide the products and the information consumers need to get the best from Champion.
If you're in the market for power products, Champion is a brand worthy of your consideration. Take a look at what we offer on nationwidegenerators.com, and come to us with any questions you may have about Champion generators.