​Brand Spotlight: Generac Home Standby Generators
4th Apr 2018
As a homeowner, you probably know the importance of backup power for your house. In some areas, a single thunderstorm is all it takes to leave you in the dark waiting for the power to come back on. In other areas, power outages can damage your home—like flooding in your basement, or frozen water pipes in colder climates, both of which can be very difficult to recover from! There are also areas around the country where regular power outages are merely part of life for which you must always be prepared. Ultimately, it is important to prepare for any of these scenarios; power outages can be more than just inconvenient. When the power is out for too long, you and your family could be subject to extreme weather conditions, spoiling food and much more. Having a Generac Home Standby Generator is your best protection from any of the above scenarios.
Generac is a Long-Standing, Trusted Brand
Generac has established itself as a reliable manufacturer of backup generators and more since 1959. The company successfully transitioned from selling portable models for Sears, to positioning itself as a leader in the power industry and market. At one time, Generac offered little more than a standard residential gas-powered generator. In fact, it was the first company to offer residential backup models that were more affordable.
Now, Generac supplies a variety of options for backup power solutions. If you are looking for that essential generator to protect you from those unexpected power outages, this company's options could be perfect for you. Many homeowners—seven in ten, according to statistics researched by Generac and posted on their website—trust Generac to provide automatic, reliable and powerful electricity to their homes when the power goes out.
Options for Home Backup Power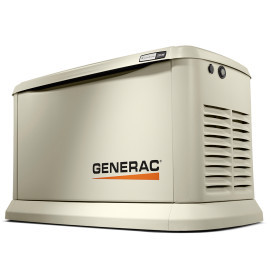 A Generac generator installed outside your house will start automatically to protect your home during a power outage. Your generator can run on liquid propane (LP), or natural gas. With the help of an automatic transfer switch, your Generac model knows when the main power grid is off. It starts the generator immediately, and the electrical power it generates is sent to your home via the normal electrical system. Depending on selection, Generac offers generator models to run just your base essential loads, and moves all the way up to covering your entire home.
The Generac 6998 PowerPact 7.5kW Home Standby Generator with 50-Amp 8-Circuit ATS, for example, is a model Nationwide Generators offers as an entry level unit for your home. This model is an affordable, powerful option for homeowners seeking reliable automatic backup power for essential loads in their home during an outage. The Generac Guardian 22kW Home Standby Generator 7042 and 7043 are examples of more powerful options; they provide circuit power protection for the home and can power more essential loads, or the entire house when they are paired with a compatible load-shedding switch.
Make your home ready for what Mother Nature may throw at you. If you haven't invested in a home standby generator, now is the time. Find out more about Generac as a reliable source of home backup power by visiting Nationwide Generators online, and by contacting us and asking for more information. We're here to help you choose the best fit package to cover your home.