​Choosing Between Gas-Powered Pressure Washers and Electric Pressure Washers
7th Aug 2018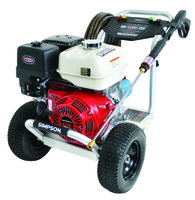 If you're in the market for a pressure washer and you have never bought one before, then you are probably wondering how to differentiate between the options--which is best? Per the usual response for these kinds of questions, there is no single answer. There are pros and cons to owning either; you must choose according to your wants and needs.
Electric Pressure Washer
Electric pressure washers can be very powerful items. They can even offer up to 2000 pounds per square inch (PSI). Despite this power, they're quiet, too, and you can clean items around your home. Clean your driveway, patio, car, grill, and much more. With other attachments, you can make them even more powerful.
Plus, you don't have to purchase gas or oil. This makes them a bit more low maintenance than the other options. They have fewer parts to replace and cost less. Of course, that doesn't mean they're perfect. Some people argue that gas-powered models are better quality, and that the increase in quality is reflected in price, as well as durability. It's argued that the electric pressure washer may not last as many years as the gas-powered model. It's power cord may also limit where it's used if used without an extension cord.
Gas-Powered Pressure Washer
Being able to take the pressure washer almost anywhere is what draws some people to the gas-powered models. With this and their wheels for portability, they're particularly suitable for a contractor. They also may offer more power than electric washers, which also makes them more suitable for professionals.
They generally require more maintenance than electric models, however. As long as you're willing to maintain them, they could still be what you need. They may also cost more, which is why homeowners who don't need all that power and want to perform less maintenance are more likely to be drawn to electric models. Gas-powered pressure washers need gas, oil, detergents, and other things over time, which cost money. If you're in the market for a pressure washer, you need only ask yourself what, specifically, you need. Make a list of the amount you're willing to spend, how much power you need, how often you'll use it, and whether you'll travel with it. Together, those will give you what you need to find the right model. Visit nationwidegenerators.com when you're ready to ask questions and purchase your pressure washer.