​Choosing the Best Pressure Washer
27th Apr 2018
Water is an essential part of getting things clean. Good water pressure can make a significant difference in washing away dirt and grime. Pressure washers take this to another level; they boost water pressure to very high levels—1000 to 4000 PSI—with the help of fuel-powered engines, or electric motors. This high pressure gives water the power to cut through dirt and much more. A pressure washer can clean your home, siding, patio, car or any other item that needs extra pressure to get clean. However, you need to choose the correct model to fit your needs. Due to the various uses, we offer many different models at different levels of power to suit your needs.
Understanding the Power
Pounds per Square Inch (PSI) is how water pressure is measured. That power is what breaks the bonds between a surface and what is on it. If you have too little, the surface won't be cleaned successfully. If you have too much, you'll destroy the surface beneath the grime. Gallons Per Minute (GPM) and Cleaning Units (CU) are also measurements associated with pressure washers. A larger GPM means your washer can cover more surface area, and CU determines how fast the water stream will clean—calculated by PSI x GPM = CU.
Basic Pressure Washer Types
When you choose your washer, one of the ways to begin is by deciding your grade—consumer, semi-professional, and professional.
Consumer-Grade Pressure Washers: These are perfect for a homeowner whose power cleaning jobs are limited to simpler, standard home projects. They have consumer pumps and engines. With these, you can safely clean your home siding, patio, driveway and much more. You don't have to worry about dealing with too much power, or too little. These models—like the Generac 2800PSI Residential Pressure Washer 6922—are easy to use so the homeowner doesn't have to worry about operating a complex machine.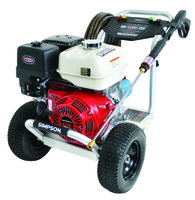 Semi-Professional Washers: These models are a bit more powerful than standard models and are for homeowner, or small business use. They are still suitable for non-professional home use, but are also for people who need more power on harder projects. These are also for use on a more regular basis where these semi-pro units suit usage needs a little better. Some contractors for whom washing is part of the job find these models useful, too. Most of these models come equipped with consumer, or commercial-grade engines and professional pumps.
Professional-Grade Pressure Washer: Pro washers are usually of interest for contractors and come in handy for industrial use. These models have both professional engines and pumps. They have the ability to run longer while using more power, like the DeWalt DXPWH3040 60581 3000PSI, or Simpson ALH4240 4200PSI model. These units deliver enough power to handle the biggest and dirtiest of jobs.
Often, the differences between these models will be reflected in price. As you shop, check the descriptions for recommended use in which model you're interested in. Of course, when you need help, just contact Nationwide Generators.