How to Maintain Your Home Backup Generator
15th Oct 2014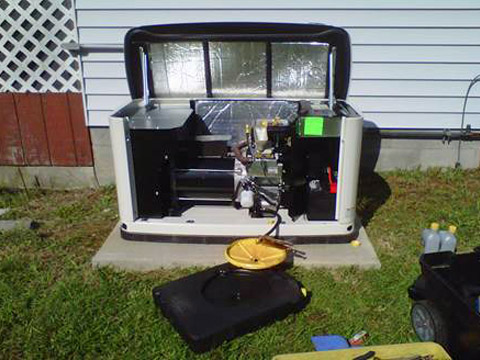 Take care of your generator as you would your car for regular maintenance. Oil, oil filter, air filter and spark plugs… it's all very similar. Air Filters become dirty, spark plugs wear over time, Oil levels can drop, become dirty and lose viscosity.
Basic rules to follow:
A weekly or daily visual check should become part of your normal routine to ensure your generator is free and clear of debris. Leaves, grass/mulch, a large snow drift or snow fall, etc. can keep your generator from starting and doing the job it was intended for.
Inspect oil levels monthly. If your generator runs for an extended period of time, inspect oil levels daily and do one final check after the outage if over.
Replace your oil and oil filter every 2yrs or 200 hours of generator run time, (whichever comes first)
Due to the importance of your generators performance, synthetic oil has become a factory recommended choice for reliability and long engine life.
Your operation manual lists specifications and requirements you need to follow for the specific unit you have purchased, please refer to your manual when purchasing parts.
Contact Us we can help direct you to a local dealer for maintenance or help guide you to do it yourself.
To serve you quickly and efficiently, please have your model and s/n# ready when you call in.